ONE FLOOR HOUSES

HOUSES WITH ATTIC

DOUBLE STOREY

MULTIFAMILY HOUSE
Construction and execution of light steel frames and structures are what our company has specialized for, with over 20 years of experience in this field. We produce premium light steel profiles of 89 mm, 140 mm, 190 mm, 240 mm and 290 mm wide and 1 mm to 3,5 mm thickness.
We manufacture light steel structures for any type of houses that can be performed in Romania or Europe. The high quality of structures, innovation and professionalism are guarantees for any construction system built with our company. Using our construction system, you will save up to 30% compared to conventional building systems of houses.
The advantages of such a house made on light steel structure are numerous, but the most important ones are:
SEISMIC RESISTANCE
Steel structures are approximately 7 times lighter than conventional structures, and in case of an earthquake your property does not suffer. The elasticity of the building in case of an earthquake is due to the accuracy of the initial design.
DURABILITY
Galvanized steel structure guarantees that your home will stand up to 150 years. Our structures offer remarkable endurance metal. Steel does not burn, it is a non-combustible material and is not affected by fungus or other insect attacks. Very high thermal and sound insulation.
AESTHETICS
Due to the professional design programs we use, errors of execution are eliminated. We use high precision optics that eliminate any imperfect angle, and the walls are mounted perfectly vertical.
Our construction systems allow much more freedom in design architecture than any other traditional system. Construction is possible in any season. No waste, construction site clean.
In this age of speed, time is essential for our clients. Therefore, light steel structures are the best choice. Resistance and technical projects are ready within 2 weeks, and manufacturing structure and montage lasts only a few days.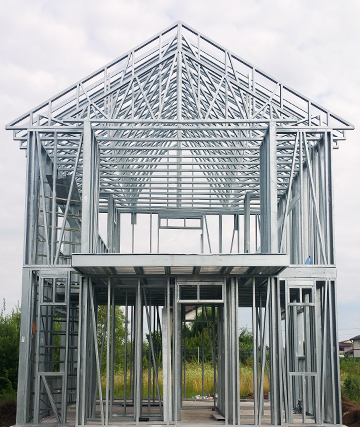 LIGHT STEEL FRAMING
REALIZED PROJECTS
CONTACT US
T: +40 770 105 793 / +40 771 200 142 | E: office@mexisteel.com
[[[["field12","contains"],["field2","contains"],["field3","contains"],["field13","contains"],["field20","contains"],["field9","contains"],["field17","contains"]],[["show_fields","field5"]],"and"],[[["field21","equal_to","Company"]],[["show_fields","field25,field24"]],"and"],[[["field21","equal_to","Person"]],[["show_fields","field12,field2"]],"and"],[[["field25","contains"],["field24","contains"],["field3","contains"],["field13","contains"],["field20","contains"],["field9","contains"],["field17","contains"]],[["show_fields","field5"]],"and"]]